¶ 1 Leave a comment on paragraph 1 0 Want to comment? You will need to register as a user. We ask you to use your proper name and give some biographical context, in recognition that some scholars submitting work here may need to demonstrate at reappointment that their work has been reviewed by experts in the field. You can choose what name you would like to have displayed with your comments; again, we prefer that you use your full name for this field, rather than your user name or other shortened form.
¶ 2 Leave a comment on paragraph 2 0 Comments are moderated for first-time commenters, but only as a means of spam prevention. Comments will not be filtered for content.
¶ 3 Leave a comment on paragraph 3 1 Where do I leave comments? This site is powered by CommentPress, which allows comments to be attached to individual paragraphs or an entire document. You can leave a comment on an individual paragraph by clicking on the speech bubble icon to the left of the start of the paragraph. To leave a comment on the whole essay, click the first link in the comment column, "Comments on the whole page" (see image below). If you wish to reply to a specific comment, click on the link immediately below that comment (e.g., "Reply to Sarah Werner.") General comments about this site or the open peer review process may be left by clicking on the speech bubble at the top of the reading pane, or by following this link.
¶ 4 Leave a comment on paragraph 4 0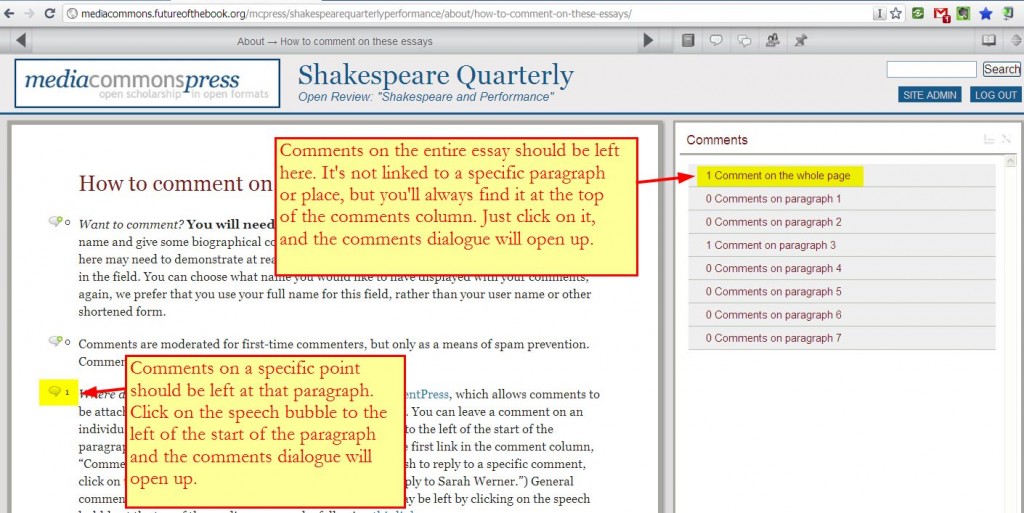 ¶ 5 Leave a comment on paragraph 5 0
What sort of feedback will be helpful? The editors and authors are looking for both holistic responses to the essays and for feedback to specific points in the essays. Both praise for strengths and helpful criticism to correct weaknesses will be appreciated. Should you read an essay and have only one or two general comments to make about it, those will be helpful. Should you have many comments throughout an essay, we will be delighted to see that level of engagement.
¶ 6 Leave a comment on paragraph 6 0 Can authors of the essays comment? Authors of the essays on this site are encouraged to respond to feedback on their own work as well as to provide feedback on the other works posted here. Because SQ's editors will be publishing as many or as few of the essays as they see fit, the essays are not in competition with each other.
¶ 7 Leave a comment on paragraph 7 0 If you have questions about this interactive format, please feel free to leave them here.