¶ 1 Leave a comment on paragraph 1 0 I'm going to hold off on discussing commenting for the moment, but I want to take a couple of minutes to focus in on trackbacks and versioning, how they function, and how they might work in online scholarly publishing.
¶ 2 Leave a comment on paragraph 2 0 It remains somewhat shocking to me that an academic indexing system such as the MLA Bibliography has not yet found a way to incorporate a technology like trackbacks to researchers' advantage. Trackbacks are an extremely useful mode of linking conversations across blogs.
¶ 3 Leave a comment on paragraph 3 5 Imagine blog number 1 has published a post that blog number 2 is commenting upon.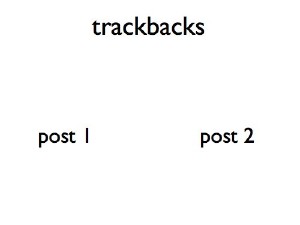 Blog number 2 obviously links to the post on blog number 1. In most blogging software, that link triggers a "ping" from blog number 2 to blog number 1, that registers


the original post as a trackback link, allowing readers of the original post to follow the conversation to the responding blog. While the implementation of such a technology within academic publishing requires programming skills far greater than mine, its applications are obvious.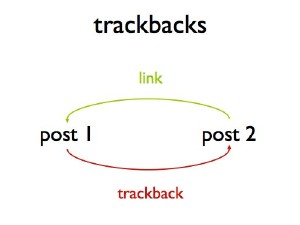 ¶ 4 Leave a comment on paragraph 4 1 Right now, when your most recent article appears, wherever it appears, and is indexed by the appropriate bibliographic services, it is generally mined for its title, author, publication data, keywords, and so on, but what if its bibliography were also indexed?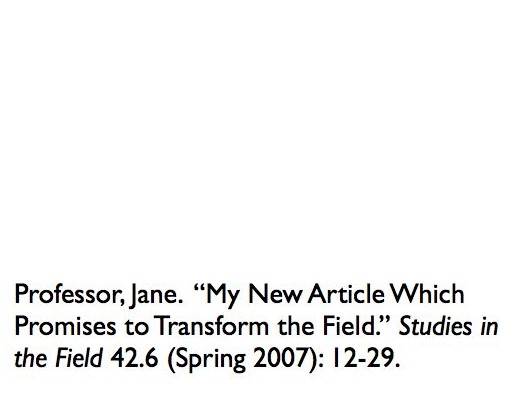 That bibliography currently allows us to trace conversations backward in time, but if the bibliographic information mined by the indexing software triggered a ping that was picked up by the records of those cited texts, each of those texts would thereafter carry,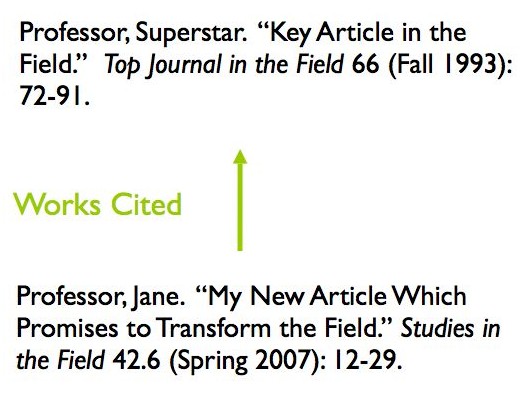 in its indexed entry, evidence that the text was cited by you, among x number of other future scholars, each of whom responded to the text's argument in slightly different ways, thus enabling researchers to track conversations forward in time. (The sciences have of course been all over this for years via citation indexes. And of course the institutional reliance upon such citation indexes as a metric of any given article's "importance" in the field might be something worth subjecting to a bit of critical scrutiny.) In any case, the deployment of such forward-linking is made comparatively simple within an online publishing environment, in which trackbacks would have the added advantage of creating directly followable links among texts, materializing the ongoing nature of scholarly conversations, allowing any given text, via its descendants, to continue growing beyond its conclusion.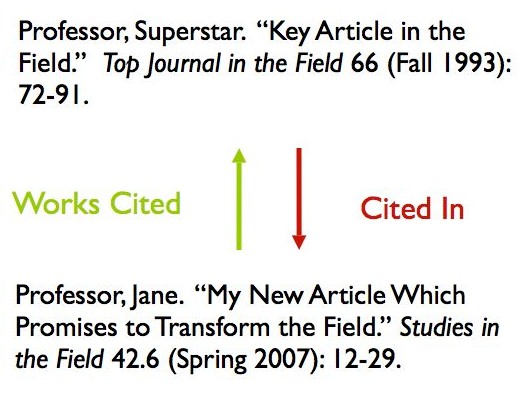 ¶ 5 Leave a comment on paragraph 5 1 Versioning, as employed in most wiki software, would have a similar effect to that last, though within the individual text. In a wiki, any given page (here one selected at random from Wikipedia) includes not only its present state, but also its history, allowing a reader not only to revert the text to previous versions, but also to compare versions, to see what has changed. Such versioning might be useful in academic publishing. It makes no sense, after all, for electronic texts to mimic print by becoming fixed; electronic texts should be free to continue to grow and develop over time,but that change should somehow be marked within the text, made visible to readers. In this fashion, by enabling an author to continue working on a text even after its publication, but by making the history of changes to that text available, the process of an argument's growth and change could become part of the text itself. This would enable, in conjunction with commenting technologies, the processes of academic publishing to be radically changed, allowing authors to get new material into circulation much sooner. Scholars would no longer be at the mercy of the often appalling time-lags between a text's submission and acceptance, and between acceptance and publication.
¶ 6 Leave a comment on paragraph 6 0 So this is the point at which I want to talk very briefly about one of the experiments in electronic scholarly publishing that have taken root over the last few years: arXiv. arXiv, hosted by Cornell University's library, is an open-access "e-print" (or pre-print) repository through which scientists have increasingly disseminated and obtained working papers in physics, mathematics, computer science, and quantitative biology. Such papers are very often submitted to arXiv before they are submitted to journals — sometimes because the authors want feedback, and sometimes simply to get an idea out into circulation as quickly as possible. However, a growing number of influential papers have only been published on the arXiv server, and some have suggested that arXiv has in effect replaced journal publication as the primary mode of scholarly communication in physics. Such a mode of pre-print publication, adapted for the humanities, would allow articles and monographs to be posted relatively early in their life-spans, as pre-prints or even submissions, allowing the debate and discussion that they produce, and the shifts in the author's thinking that result, to take place in the open, as part of the process of the work itself.
page 4