The Roman Tragedies
Christian M. Billing, University of Hull
¶ 1 Leave a comment on paragraph 1 0 Presented by Toneelgroep Amsterdam at the Barbican Theatre, London, November 20-22, 2009. Directed by Ivo Van Hove.
¶ 2 Leave a comment on paragraph 2 0 Translation by Tom Kleijn. Dramaturgy by Bart van den Eynde, Jan Peter Gerrits and Alexander Schreuder. Scenography and Lighting by Jan Versweyveld. Costumes by Lies van Assche. Video by Tal Yarden. Musical Composition by Eric Sleichim. Percussion by Ruben Cooman, Yves Goemaere, Ward de Ketelaere and Hanes Nieuwlaet. Technical and Production Manager Götz Schwörer. With Fedja van Huêt (Coriolanus, Agrippa), Chico Kenzari (Aufidius, Anchorman, Enobarbus), Frieda Pittoors (Volumnia, Iras), Roeland Fernhout (Brutus), Renée Fokker (Cassius), Fred Goessens (Lepidus), Janni Goslinga (Calpurnia, Diomedes), Marieke Heebink (Casca, Charmian), Hans Kesting (Marc Antony), Hugo Koolschijn (Caesar), Hadewych Minis (Octavius), Karina Smulders (Portia), Chris Nietvelt (Cleopatra), Alwin Pulinckx (Dolabella), Eelco Smits (Ventidius), Karina Smulders (Portia, Octavia), and others.
¶ 3 Leave a comment on paragraph 3 0 Ivo Van Hove's production of The Roman Tragedies was brought to the London Barbican as part of the 2009 Bite season. It was the first time this world-class director's work had been seen in London for 10 years, and the first time a Dutch-language production of Shakespeare had been seen in the English capital since 1919. The Roman Tragedies project began conceptually in June 2005, with first showings taking place in Amsterdam exactly two years later. Since then, the production has toured to Braunschweig, Wroclaw, Zurich, Vienna and Avignon, with performances planned in 2010 for Montreal and New York. Ivo Van Hove created the production because he wanted a significant counterpart to his hugely successful production of Wagner's Ring Cycle. After settling on Shakespeare, he began planning for a production of Antony and Cleopatra (seen as a complicated play about global power politics). Through the character of Anthony, however, the director slowly began to get interested in Julius Caesar, before the concept of Rome itself finally took over as he was also drawn into Coriolanus.
¶ 4 Leave a comment on paragraph 4 1 The process began with available Flemish translations from which Van Hove started making a conceptual adaptation. His first big decision was to cut from each play war scenes and the lower classes (gone are the crowds in Coriolanus, the clown in Antony and Cleopatra). This decision was taken because Van Hove wanted to focus on high-end politics and political mechanisms—and, equally, because he considers that there is no meaningful dialogue in the real world between people with other sorts of voices and politicians 'sheltering in their bunker'. In the light of this decision, new media (and conventional media used in new ways) became important devices through which the director revealed the ways technology is used to manipulate the political agenda, often deliberately, to cut out the non-political classes. For Van Hove, the political use of sophisticated production techniques and modern media dissemination means that those in power often think they know what is going to happen, that they feel they can control it. So they seldom fell the need to bother with actual debate or democracy. His production reflected this.
¶ 5 Leave a comment on paragraph 5 0 Three dramaturgs (Bart van den Eynde, Jan Peter Gerrits and Alexander Schreuder—one for each play) and a translator (Tom Kleijn) were brought in mid-process to create final performance scripts. Van Hove directed scene by scene as he always does (despite seeing strong relationships between the plays), deciding how to respond to the needs of each text as actor-based performances developed in the rehearsal room. Van Hove places significant emphasis on preparation, during which he focuses on two tracks: dramaturgy and scenography (elements of theatrical representation that he sees as inseparable), but when he enters rehearsal, he attempts to forget his research in order to concentrate on what is being offered by the actors and technicians with whom he is working in the moment. As the project developed, the director worked closely with individual dramaturgs according to the needs of the plays, yet only he and Jan Versweyveld (his partner and a scenographer with whom Van Hove has worked since 1981) knew the overarching structure of the project.
¶ 6 Leave a comment on paragraph 6 0 For The Roman Tragedies, Van Hove took as a driving force the idea of 24-hour politics: the notion that while one is asleep, someone on the other side of the planet is busy changing the world. Subsequent to this decision he came up with the idea of a continuous, highly mediated, six-hour performance with stage set, digital media, and the audience as integral elements of it. The decision meant using the Internet, video and other digital technologies; accordingly, Tal Yarden (the video director who worked on Van Hove's Ring Cycle) became highly significant in the process. Van Hove always considers video and audio technologies to be available to him, but he doesn't use them unless there is good reason. Here, the justification came because he felt one couldn't deal with the issue of mediatisation and political manipulation in a modern context unless such devices were used. As the director points out: millions see Obama on TV, or on the Internet, whereas only a few score, or hundred, or thousand, are present at actual events. Politically, we are used to the media, not reality; The Roman Tragedies was accordingly treated as a political media-stream in which actors, technicians and audience members participated in the manufacture and distribution of a sophisticated discourse, channeled in real time, through various media.
¶ 7 Leave a comment on paragraph 7 1 Because the show was over six hours in duration (and encompassed three intensely tragic Shakespearean dramas), Van Hove worked on ways to make the experience comfortable for his audience. With Versweyveld, he came up the idea of the corporate convention space: a place in which people could sit and watch TV—an anonymous environment in which the events of the world could unfold around spectators as they were having a beer or eating a sandwich. Bars and food outlets were accordingly placed at the side limits of the stage, along with percussion and music stations, a Mac-based video editing suite, a hair and makeup section, a first aid station, an Internet lounge (from which selected messages could be relayed to a dot matrix screen above the stage), and a conventional printed news media library.[1] Numerous opportunities were provided for the audience to move from the auditorium to the stage (and even out of the theatre) if they wished, becoming as they did so part of a living scenography. This was drama at a very different rhythm, but an experience in which the audience was never separated from the action taking place around them all of the time. Although final performances included numerous brief pauses in the action (from seconds to a couple of minutes as the company's technicians moved scenic elements and the audience chatted, bought drinks, browsed the internet or read magazines and newspapers whilst calming musak played), these brief pauses between acted sections of the show became themselves enfolded within the production. There was no formal interval in the six-hour spectacle.
¶ 8 Leave a comment on paragraph 8 2 Van Hove's emphasis throughout was on clear storytelling, which comes primarily from the fact that he is a classically trained director who feels obliged to provide his audience with strong narrative through-lines. As a consequence of their manifestly understandable actions, Van Hove sought physically to manifest his characters' emotional states. As a director, he is not interested in psychological analyses of individuals, however, claiming that it is the political mechanisms that allow individuals to act as they do that are his real interest. He states: 'theatre must be what's behind the mirror' (i.e. not a mimetic representation of life, but a revelation of the forces that lie underneath people's actions, as defined by social structures). He compares his theatrical product in this regard to the X-ray image. The achievement of his aim, to strip away the flesh of individual actions in order to reveal the bone of social structures beneath, lay in large part in the use of mixed media. Rather than being overlaid on a straight acted production, technology emerged through process: video was introduced in just the second week of rehearsal as, working with actors to select the most powerful uses of its capabilities, Van Hove used cinematic and televisual techniques in a very human, and thereby more theatrical, way. The director always films his actors live, during performance, and resists video artists who want to make fancy videos. Instead, he uses projected video of live action as a juxtapositional tool, or, alternatively, as what he terms a modern version of the ancient Greek theatrical mask. Working with technology that allows audiences clearly to see the veins of his actors, the spittle on their lips, the color of their eyes, their tears… live video is used by Van Hove both to humanize the performer and to render symbolic the corporally-rooted intensity of performance. Such work demands particular rigor, and Van Hove is adamant that The Roman Tragedies would not have been possible without an ensemble group of collaborating actors and technicians committed to each other for extended periods of time. The group presenting The Roman Tragedies has been together for six years, and the production itself requires a total fifty people (including technicians) working together in highly focused conditions for almost six hours of continuous performance. To prepare for this, the technical team rehearsed for seven weeks, the actors for eleven. Once collaboratively created in this way, the show has not been altered. Van Hove confesses: "It would feel like treason to change it."
¶ 9 Leave a comment on paragraph 9 0 Coriolanus
¶ 10 Leave a comment on paragraph 10 0 From the beginning of Coriolanus it was clear that meaning in this production would be created through collage and the juxtaposition of highly mediated performance events.
¶ 11 Leave a comment on paragraph 11 4 The play opened with frenetic drumming and strobe lighting (used throughout the production to signify war). Just behind the apron, stage left and right, musicians stood at percussion and effects stations and beat frenzied rhythms on a collection of toms, horizontally mounted bass drums, crash cymbals, and gongs. This was the musical violence amid which Rome was born. It shook the theatre. As the music finished, with drums and cymbals still resonating, a variety of video screens flickered into life and a huge projection screen (approximately five by fifteen meters, hung on the proscenium line above the stage, filling the entire width of the auditorium) showed intercut talking heads, followed by a huge close up of Volumnia (Frieda Pittoors). The Roman matriarch talked politics coldly as Dylan's Masters of War played almost inaudibly, with a deliberately distant and tinny timbre, over the theatre's speaker system. As Volumnia outlined an urgent political situation, archive images appeared on onstage video monitors, including one of a five-year-old boy playing proudly with a plastic sword. From breast to battlefield, Coriolanus was brought up to be a warrior. How passively too we accept and inculcate the concept of violence, from our lip service to Classical history to our selection of children's toys.
¶ 12 Leave a comment on paragraph 12 0 This playfully provocative visual juxtaposition was typical of the production, in which images of actors were frequently seen on a huge cinema screen (with the same live edit often distributed to numerous onstage TV monitors), whilst equally frequently they performed against archival televisual footage distributed to onstage plasma monitors. Archive footage showed images of death, destruction, severe weather events, MTV, or the pop-culture chaos to which modern channel-zapping media consumers have become accustomed; yet the carefully selected collision of images always provoked thoughts of note. Additionally, when actors did not appear on screen as characters performing, they were not infrequently shown as actors preparing, adding to a sense of documentary reportage and leaving the audience unsure if any given actor (or the character s/he was playing) was preparing for the role they were about to play onstage, or the role their character was about to play in the world of global politics. This was certainly the case with the first shots of Coriolanus (Roeland Fernhout), who appeared onscreen from a position stage right, preparing at the hair and make up station. Highlighting in this way actors who would in more conventional productions be considered offstage, the audience's focus was time and again drawn away from conventional onstage acting to a greater consideration of stage management, behind-the-scenes role-play, preparation, script-creation and political performance.
¶ 13 Leave a comment on paragraph 13 1 The overall effect was a postmodern take on the mechanics of media production and presentation. Moments of dramatic action were often underscored by music or effects, but such creation was always clearly visible, thus de-mystified. One such example came when Coriolanus' speeches were subtly underscored by manipulation of two Revox B77 10" reel-to-reel tape machines. The now-surpassed technology of the B77 was not used for its retro chic, but because the motors of a Revox can be isolated, allowing the magnetic band onto which sounds have been recorded to be pulled manually over the playback heads at different speeds by technicians rotating spools in each hand. The effect created was used several times throughout the evening, and made for an eerie underscoring of onstage speeches. Much like the tinny and just-audible Masters of War Dylan track that played through early parts of Coriolanus, this created a disturbingly not-quite-subliminal background effect that contributed to the tension of the action. Awareness of how it was produced added to audience consideration of how the political message of Coriolanus was also being packaged. Sound, like image, script and speech, was carefully manipulated throughout these plays: actors wore slim-line microphone headsets with wires seen (taped to their backs under vests, visible when changing, or acting semi-clad); radio transmission packs hung ubiquitously on the back of costume belts; sound reinforcement was commonplace, whether using headsets or (for particular effect) handheld or desk-mounted microphones. There was immense skill in processing and cutting out these signals when actors clashed, rolled around on furniture, or shouted at each other. Their sound bites were always perfect, presented with purpose and absolute signal clarity.
¶ 14 Leave a comment on paragraph 14 0 The geo-politics of Coriolanus was thus communicated through a mixture of live action (presented using Shakespearean characters one might recognize performing a new Dutch language version of the early modern play-text) and staged media events carefully managed and belonging more properly to the postmodern world. Prior to the tribunes' scene, for example, Chico Kenzari read exposition of political events in talking-head, newsroom-anchor-style reportage. The broadcast was performed live from a television studio mock up towards the back of the set and was relayed to monitors onstage as well as the screen above the auditorium. Yet as soon as the audience became accustomed to this familiar media performance style, the atmosphere immediately changed to a much more human level—with the shock tactic of tribunes who emerged amongst the audience, standing up in the theatre stalls and directing lines of discontent towards a political stage of which they were not a part. To make the point more forcefully, tribune dialogue was accompanied by images on onstage television screens of middle-Eastern immigrant communities talking and debating amongst themselves, a world away from those in power. These Roman tribunes were present as tokens of the all-encompassing notion of modern Western democracy; in reality, they were ignored. The patricians on stage talked down to them (as tribune faces were picked out surreptitiously by automated cameras located at fixed points in the auditorium and projected onto the cinema screen above the stage as they spoke, or in reaction shots to patrician insults). The formal Roman integration of ordinary citizen voices was clearly evident but what the voices said was considered with contempt. These men were an annoyance, considered simple herders of unsophisticated plebian cattle.
¶ 15 Leave a comment on paragraph 15 2 When the patricians finally invited the tribunes to the Capitol (i.e. the stage, with all of its status and technological paraphernalia), the idea of the modern political classes' lip service to democracy was again evident. After an alienating message scrolled across the dot-matrix display, just below the cinema screen: '215m until Brutus' death […]', a press-conference-style meeting between patricians and tribunes began. Both factions leaned forward to address their dialogue into microphones placed on the tables in front of them; but those in power constantly interrupted, and were dismissive of those without it. The audience (by this stage not-so-coincidentally also invited on stage to occupy several seating areas incorporated into the set, or to buy and consume refreshments at the onstage retail outlets) watched the action either by focusing on actors just downstage of them, or by looking at one of approximately seventeen Samsung LCD flat-screens, or (more retro) Sony cathode-ray monitors dotted around the stage. Significantly, most of those who had gone onstage were in fact watching the performance on TV (even if an audience member left to go to the restrooms accessible via the theatre foyer, further flat screen TV monitors placed throughout the Barbican Centre bore the same images as those distributed onstage and on the cinema screen above the auditorium). There was no escaping the version of events that the technicians stage right, at the video edit suite, wanted audience members to see. Even the most experienced professional theatergoers (many Professors of Drama at top UK Universities) were struggling consistently to watch the actors in person. Which was, I think, precisely the point.
¶ 16 Leave a comment on paragraph 16 1 The tribunes' scene had a sense of international bargaining, but negotiations quickly erupted into physical violence (real brutality only occasionally seen nowadays if breakdowns in dialogue lead Korean government ministers, or Columbia University professors, to assault each other publicly, then on-demand on YouTube). Here, the fighting was only loosely choreographed and the reality of pulling, grabbing and flailing fists that filled the space (more normally reserved for slightly-slower-than-real-life fight-scene-movement) led to a most welcome sense of actual danger for the performers. Some of the actors involved were cut; suits were ripped. The whole explosion of bellicose brutality was underscored by hand beaten toms and wooden beater-hit xylophones at the percussion stations. Such pugilism was refreshingly real and made sense of the fact that the First Aid Station located centre-stage right had saline solution ready in syringes, together with swabs, sticking plasters, bandages and (although one didn't quite know why yet) a Hellige Servocard Defibrillator B2.
¶ 17 Leave a comment on paragraph 17 0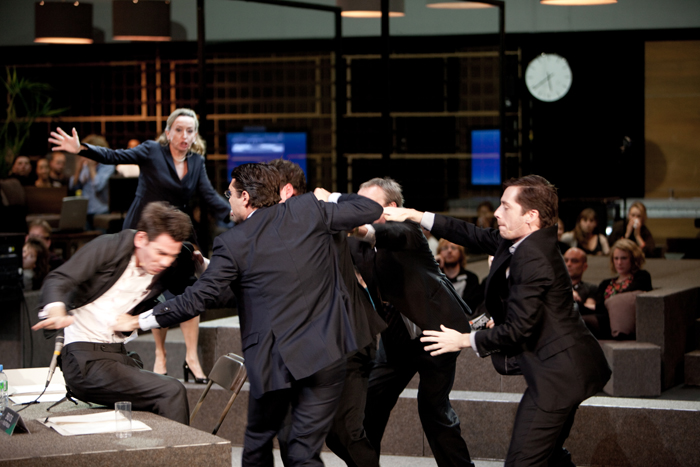 Fighting Senators and Tribunes: Marieke Heebink, Alwin Pulinckx, Roeland Fernhout, Fedja van Huêt, Fred Goessens, Eelco Smits
¶ 18 Leave a comment on paragraph 18 0 Following the violence, Coriolanus and the patrician forces moved to a raised area stage right to lick (metaphorically) their wounds. The onstage view of the patricians could now be seen from my own spectator position (centre stage left) through two huge Plexiglas screens that dominated centre stage. These sheets created a glass corridor into which audience members were prohibited access, and in which a rectangular ekkyklema was located. This long, low, wheeled trolley was used to hold and move within the glass corridor the bodies of all those characters who died during the course of the evening. As I watched early Roman politics play out in front of me through two glass screens, my view was across a couch-based viewing area in which spectators watched intently a variety of subtitled TV screens, each individual choosing conveniently the screen situated at the closest viewing distance. As the factions continued their dialogue, sound moved from actorly projection to more intimate, televisual (or cinematic) amplification and I became aware that I was listening to speech channeled through a variety of speakers dotted around the stage. Dylan's Masters of War became audible again in tinny Tannoy through the same onstage amplification.
¶ 19 Leave a comment on paragraph 19 0 The scenes that followed between Coriolanus and Volumnia, returned the mood to negotiation. Actors played downstage, their backs visible from any onstage position, their faces on screen, their words underscored by low resonating notes made by felt beaters drawn slowly over suspended bass drums. Listening to mother and son, and watching them from time to time on a television screen, I turned to see one male audience member eating a sandwich, my attention drawn peripherally by his bright red shirt. On the other side of the stage, I could see a spectrum of human bodies frozen in space: audience members willingly allowing themselves to become televisual spectators, intently staring at monitors containing a widescreen-aspect-ratio-framed cinematic version of action that was taking place onstage just feet away from where they sat. Indeed, so absorbed were some spectators in their refreshment-drinking, sofa-bound world of TV watching that one came up to the colleague with whom I was watching the show in order to castigate him for blocking his view of a monitor. There were at least six other screens in the vicinity (and the live action relayed to them was taking place just downstage), but my colleague was still reprimanded for stepping in front of a particular television. It's theatre, Ivo, but not as we know it.
¶ 20 Leave a comment on paragraph 20 0 The reason for so many audience members' focus on the screens was justifiably twofold: firstly, those unfamiliar with the events of these plays were reliant on English language subtitles in order to understand a new text expressed in Dutch; but, also, the quality of the images presented on screen and on the monitors was outstanding. Scenes between Aufidius and Coriolanus were often presented in split screen, reducing the real distance between actors on the stage, and presenting characters in multiple-image overlay. Juxtaposing what one could see of human actors in real space against video-edited cinematic composition, lost onscreen space (the gaps between characters not possible in the video format) became the space of a human handshake, existing in reality but cut from the screen, or the void into which a human embrace fell. From approximately one hour into the performance, split screen composition of one form or another was used for much of the play.
¶ 21 Leave a comment on paragraph 21 0 When Coriolanus moved towards inevitable war, news reports of Roman power politics resumed in the TV studio upstage. Now, the flat screen monitor behind the news anchor showed current images of US troops in Afghanistan, with close-ups of gun turrets discharging used shells. Added to this media collage, and set against the TV studio backdrop, came live shots of Aufidius or Coriolanus; in the background one could see audience members, drinking coffee, tea, wine or beer, moving in and out of shot. As war broke out, frantic drumming returned and the onstage TV screens turned to static across which the historical narrative of relevant ancient military campaigns flashed in subtitles. The same information ran across a scrolling dot-matrix display beneath the cinema screen above the proscenium line. Presented in such a way, historical events open to interpretation were presented as unquestioned facts.
¶ 22 Leave a comment on paragraph 22 0 When Volumnia and Virgilia (Janni Goslinga) pleaded with Coriolanus to return to Rome, the scene was underscored by onstage speakers playing a strange nighttime jungle soundscape into which was added slow, sustained vibraphone to underscore Volumnia's great monologues. Van Hove's collaboration with the composer Eric Sleichim was dominated by the director's desire for a score that pushed and encouraged his actors. As a result, there was music under most of this production. In this scene, it was a great success, leading to the first theatrical occasion in which I've been moved and inspired by Volumnia (who Van Hove sought to present as a great woman not allowed by her society to become a politician, but nevertheless influencing events in any ways that she could, behind the scenes). A sustained on-screen close-up of Volumnia's face helped the mood immensely; this old technique of cinematic intimacy underpinned the intensity of actorly performance. Van Hove's talk of the Greek mask held true and the power of the human face, magnified to significant proportions on a cinema screen (or in TV close up) had great symbolic power. The dramatic tension of the scene was further augmented by huge arc-light spotlights that slowly illuminated Coriolanus' face as he turned upstage, away from his mother, and his silhouette began to glow with penumbric halo as the lights behind him grew brighter and brighter. As the scene approached total whiteout, Volumnia continued her speech and, thanks to a well-timed cut to Coriolanus' face on cinema screen and monitors, the audience could see both Coriolanus' back in silhouette and his countenance, which bore the immense weight of emotional torment. Many subsequent shots of Coriolanus were made through the centre-stage Plexiglas screens, using half-reflections on their surfaces to multiply images of Shakespeare's fracturing tragic hero. When Coriolanus was finally slain, the action onstage was supplemented with a frozen top shot of the murdered Roman lying on the ekkyklema between two glass sheets. Aufidius' 'Beat the Drum' monologue was delivered downstage centre as un-mediated human-scale performance, addressed directly to the audience. Above Kenzari's head, Coriolanus' dead body dominated the screen.
¶ 23 Leave a comment on paragraph 23 0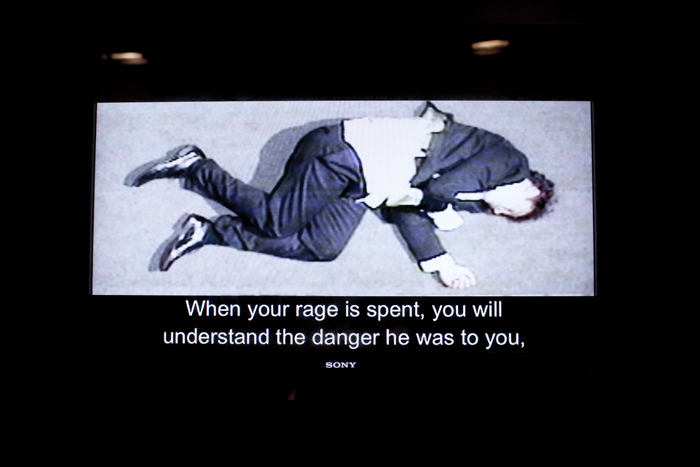 Screen Capture of Dead Coriolanus: Fedja van Huêt
¶ 24 Leave a comment on paragraph 24 0 Julius Caesar
¶ 25 Leave a comment on paragraph 25 0 The transition into Julius Caesar was immediate. Eight clocks were flown in upstage to compliment two already there. Set to different time zones, these bore the words: Seattle; New York; London; Rome; Athene; Cairo; Mumbai; Tokio; Sydney and (jokingly, one must presume) Die Zeit. At the rear of the stage, the large plasma screen previously part of the upstage TV studio showed looped CNN weather footage and elucidation, by Max Mayfield (Director of the USA National Hurricane Centre), of satellite images detailing an approaching storm in the Gulf of Mexico. A second plasma monitor, stage right and immediately upstage of the opening protagonists, showed swimming events from the Melbourne 2007 World Aquatics Championships. In this unsettling yet familiar televisual environment, the play's conspiracy and plotting began. Van Hove's Caesar presented a more corporate political world than his Coriolanus. The stakes were high, but in this play, identity was more collective than personal. When Brutus (Roeland Fernhout) was first approached to join the conspirators, he was framed in a torso shot. It showed an anonymous businessman in white shirt and grey tie, business papers before him on a desk and a push button telephone by his side. The debates with Cassius (played by the female actor Renée Fokker) about whether Brutus should be led into betrayal thus seemed more relevant to a high-level manager contemplating a coup d'enterprise, or a political party grandee considering the removal of a waning party leader, than a Roman aristocrat contemplating justifiable tyrannicide.
¶ 26 Leave a comment on paragraph 26 0 In disorienting fashion, in a production that had in its first two hours made so much of complex video imagery, as Caesar began, the screens on stage held precious few images. The masses are not made privy to the meetings held behind closed doors at which it is decided that a Thatcher must go, or a Kennedy is making too much trouble over Vietnam—and the Barbican audience accordingly did not see a mediated version of the quiet plotting against Caesar. A disturbing void was created instead, particularly during nighttime plotting scenes. To augment the unease still further, RF breakup could faintly be heard during these sections of the play, channeled via the onstage and auditorium speaker system, with occasional outbreaks of 50Hz mains hum. This was no accident in a production that meticulously planned and precisely engineered its soundscape, and was instead an attempt to bring tension, intimacy and psychological depth to most of the play's persuasion and conspiracy scenes. Percussive underscoring was frequently used too: wood blocks and oriental brass bowls either hit or bowed, then sent though signal processors to create reversed echoes, or large tiled room and cathedral-like acoustics.
¶ 27 Leave a comment on paragraph 27 0 As the action became more domestic, the manipulation of cinematic and televisual aspects increased. A scene between Lepidus and Brutus had Portia (Karina Smulders) added in split screen. Brutus' blonde wife wore an oversize sweatshirt, male boxer shorts and baggy hiking socks, making her seem very domestic—the wife at home while her husband did business. Scenes that set domestic interiors against exterior political spaces (an aspect of the play's dramaturgy to which I had not previously paid much attention) used first two, then three, then four actors in separate quarters of video screens, each added in, one at a time, in close up or two shot. The effect was like watching a Roman version of Jon Cassar's 24: real-time events from different locations were relayed to the audience via slick juxtapositional vision mixing. Sitting on the side of one sofa, watching events play out in a very current genre of split screen political-suspense television (but with the added cultural kudos of Shakespeare in Dutch, subtitled into English), I looked out over actors performing on the downstage apron, into the Barbican auditorium to see another audience, some looking at the stage on which I sat, most up at the cinemascope screen above it. In doing so, I was prompted to think simultaneously about the particular conventions of foreign language film watching, and the multiple perspectives on events that we are denied (or that we subconsciously deny ourselves) as a result of our acceptance of the control (and slickness) of many modern media. One comment sent from the Internet stations located upstage left at around this time (and scrolled across the dot matrix display under the cinema screen) read: "Audience reaction: This is like one big Roman Tweet." Quite so; for here, significant geo-political events were unfolding and an individual was allowed just a few alphanumerical characters to contribute their opinion to a group of people who would probably not even bother to read it. How far, then, has this technology moved us on from the democratic debates on Athens' Pnyx?
¶ 28 Leave a comment on paragraph 28 0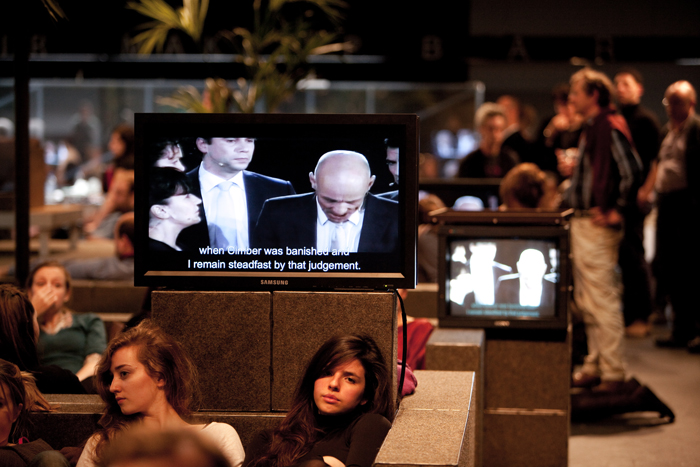 Audence members sit watching screen images of Caesar and the conspirators: Chris Nietvelt, Renée Fokker, Roeland Fernhout, Hugo Koolschijn, Alwin Pulinckx
¶ 29 Leave a comment on paragraph 29 0 If the external politics of Caesar were cold and dispassionate, its domesticity was intimate, particularly in scenes involving Portia, and Caesar (Hugo Koolschijn) and Calpurnia (Janni Goslinga), at home. Fixed cameras on set, or roving hand-held (or tripod-mounted) devices picked Caesar out in widescreen in a white singlet and blue martial-arts-style sweat pants, stringed at the waist, relaxing on a sofa next to Calpurnia. Later, Portia's head, as she lay horizontally on a rostrum, was picked out in tight close up. Live, we saw an entire body in context; on screen, the immense close-up of Portia's head appeared strangely sideways, showing distressed eyes and gravity-defying tears crawling horizontally across her face. There seemed to be no place in the political world of the senate for the emotion-feeling domestic humans pictured here. When employed in politics, Caesar wore a depersonalizing white shirt, cufflinks, a dark grey business suit and light grey tie. In the senate, the pleading for Cimber's return warned of violence to come and was underscored by squeaking metal hinges and quarter-inch tape moved slowly over playback heads. Prior to Caesar's murder, Koolschijn's body was carried aloft towards the Ekkyklema corridor by senators dressed in impersonal dark gray. As subtitles bore the Latin phrase: "Et tu Brute?", the dead Caesar was captured, like Coriolanus before him, in a screen-cap-freeze-frame illuminated in bright white light. Almost immediately, the conspirators moved away, facing upstage in darkness to see Marc Antony (Hans Kesting) arrive in a wheelchair.[2] Antony positioned himself centrally to the glass corridor to see and to mourn Caesar. A head-shot from upstage to downstage showed his torment-ridden face whilst live action provided the wider vista. Marc Antony's uncomfortable and deliberate shaking of the conspirators' bloody hands was shown, conspirator by conspirator, in two-shot as felt beaters were gently run over on cymbals and drums (with microphones subsequently swept over their surfaces to pick up resonating timbres at different spots of each vibrating surface). The effect was ethereal.
¶ 30 Leave a comment on paragraph 30 0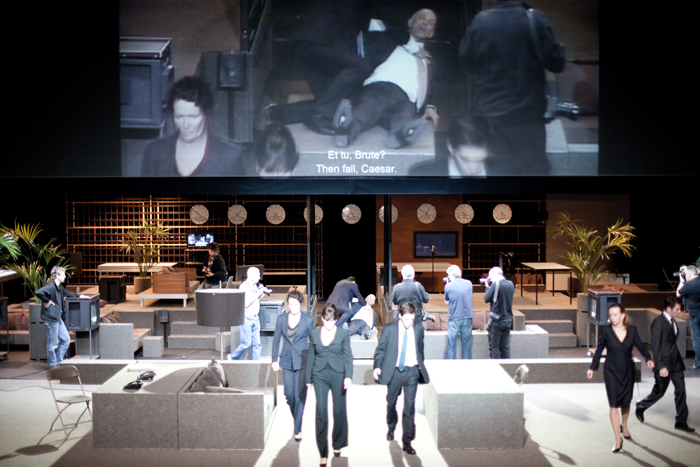 Technical Rehearsal Photograph: Conspirators move downstage as Brutus deals the death blow to Caesar: Chris Nietvelt, Renée Fokker, Roeland Fernhout, Hugo Koolschijn, Eelco Smits, Marieke Heebink, Alwin Pulinckx. Note the widescreen shot (above) of action taking place centre stage.
¶ 31 Leave a comment on paragraph 31 0 After this intense foreboding, the dead Caesar rose, embraced Marc Antony and cleared his desk into a cardboard box. Above his head, the dot matrix display read: 'Swindon to become the first UK Wi-Fi town … Latest score: Hull 3; West Ham 3'. Caesar was dead, but the world went on; the presentation of live news and soccer scores segueing into a staged press conference and Marc Antony's outstanding funeral oration. The scene was a masterpiece. Kesting grasped a hand-held microphone and quickly left the press podium made available to him by the aristocrats in order to push and pull his wheelchair around the extreme downstage apron, appealing directly to the audience as he was picked up and magnified by a roving camera held by a crouching female technician located extreme downstage centre. The result combined the power of Kesting's imposing frame with a huge cinematic head shot on the screen above. Antony undertook an intense emotional appeal to the Barbican audience; a petition in which Kesting made occasional looks directly to camera, and held Caesar's will up to it before moving to a tiny platform thrust out from downstage centre into the auditorium, abandoning his microphone to speak unamplified to the audience ab imo pectore. Finally, Kesting moved upstage and took an A4 digital image of Caesar's dead body printed onto glossy photo paper. With a red marker pen, he added stab wounds to the monochrome image as camera close ups showed spreading strokes of red ink beginning to dominate the digital likeness. The effect on the cinemascope screen above Antony's head was a marvelous piece of theatrical symbolism, bringing both the violence of the deed and the permanence of its effect to the fore. As the emotional intensity rose, Caesar himself walked downstage and assumed his dead position in front of Antony so that his friend could touch the cadaver and speak of those who had murdered Caesar. Throughout, images of Antony on the widescreen above were intercut with the photographed cadaver of Caesar, or Koolschijn's all-too-human corpse.
¶ 32 Leave a comment on paragraph 32 0 Following the funeral oration, Kesting received the first ovation of the performance before the audience was invited back on stage and two maps of the central and Eastern Mediterranean were drawn with white markers on the central Plexiglas screens. The two opposing camps arranged themselves, one behind each sheet of glass, as preparations for war began. On a plasma screen upstage, black and white footage of various historical conflicts was looped; it showed helicopter airlifts of troops; crossfire from camouflaged foxholes; inflatable landing craft bringing combatants to beachheads; snipers with eyes to gun-sights waiting for clear shots on target, then opening fire in controlled bursts; soldiers applying camouflage stick to their faces… Television monitors intended for audience use once again used split screen, this time to show arguments between Cassius and Brutus (standing on different parts of the set but brought together on screen) as opposing factions argued internally about strategy. Eventually, they grouped together and drew tactical battle plans on the centre stage glass plates. On screen, the images of opposing camps in front of battle maps were shown as two halves of a split screen. The vista, seen across the set and through both plates of Plexiglas had immense physical depth and was much more beautiful. During discussion in camps, plasma TVs cut to Eurosport coverage of a heavyweight-boxing match in which Evander Holyfield was battering an unnamed white boxer. Then, as Fernhout's Brutus sat on one sofa, Koolschijn's Caesar came to sit kitty corner on another. Picked up by two separate cameras, the ghost of Caesar was produced using digital superimposition. An image of Brutus appeared fully on one side of the screen, with Caesar overlaid next to him, now apparently on the same sofa, but faded in at sixty or seventy percent opacity. Brutus asked of the real life theatrical ghost sitting almost opposite him: 'Are you a god or an angel? [will I] see you again?" The spectre responded: 'Yes, in Philippi." Spectators of the on screen version saw a digitized version of the Pepper's Ghost effect. Nice.
¶ 33 Leave a comment on paragraph 33 0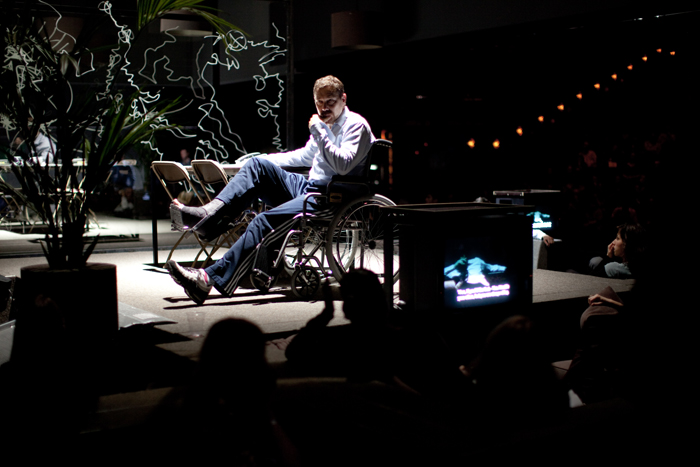 Marc Antony sits in front of a Plexiglas screen bearing a white marker image of the Eastern Mediterranean: Hans Kesting
¶ 34 Leave a comment on paragraph 34 0 Newsflashes reported minor historical battles; then, prior to Philippi, Cassius and Brutus (at this time seated on rostra downstage) were shot in naïve video. Seemingly less mediated, conventional theatrical lighting picked the actors out from the auditorium and the conspirators considered the wisdom of their chosen course of action. Their speeches, simple and honest, were underscored by percussionists who gently placed four-inch cymbals on suspended bass drums, allowing them to roll down in increasingly fast circles as they flattened themselves out and came to rest. The culmination of civil war took place with another outbreak of percussive carnage: each side of the stage thundered with bass drums, crash cymbals, toms and gongs as theatrical lighting reverted to strobing. Amid the chaos, several fantastic pieces of staging took place, including a bravura top-shot of the Plexiglas corridor of death in which an upstage actor was shown from above with his shadow extending far downstage from his feet. Brutus' suicide, again shown from above, took place as Fernhout threw himself into the corridor of death, to be screen-captured and held static until Marc Antony honored him, from the tiny downstage platform, as the noblest Roman of them all.
¶ 35 Leave a comment on paragraph 35 0 Antony and Cleopatra
¶ 36 Leave a comment on paragraph 36 0 Antony and Cleopatra opened immediately in very different mood. A long camera shot of Antony showed a percussionist gently bowing the bells of a vibraphone behind Kesting as he performed his dialogue. Cleopatra (Chris Nietvelt), shown in widescreen, was seen lolling indolently on a sofa, while Charmian (Marieke Heebink) opened and poured champagne as a precursor to some very luxuriant performance (and drinking) by the Egyptian women throughout the play. Shortly afterwards, in Rome, a female Octavius (Hadewych Minis) in white blouse and chiffon neck scarf railed in disgust at the luxuriance of her Alexandrian counterparts. Calling the triumvirate together, the scene of disputation was acted on the apron, first with no screen image, then triple screen, the shot balanced as a mirror around Lepidus (Fred Goessens), silent in the middle, as Antony and Octavius turned away from each other in disgust, the angle of their bodies exaggerated by the positions of the cameras that picked them up. Many images in this play were deliberately cynical and ironic; such as that shown next during the proposal of Octavia (Karina Smulders) as Antony's bride. Here, a huge image of Smulders was projected onto the screens as Octavius' offer of her sister was made. It showed Octavia chewing gum and applying mascara and lipstick vacantly as her unsurpassable beauty and political importance were discussed. The roving camera that followed Smulders from the hair and makeup station to the downstage acting area revealed a vacant regard and unsteady walk that made her seem inebriated—a political whore, self medicating on alcohol to get her through the scene she was about to play on camera on the world stage.
¶ 37 Leave a comment on paragraph 37 0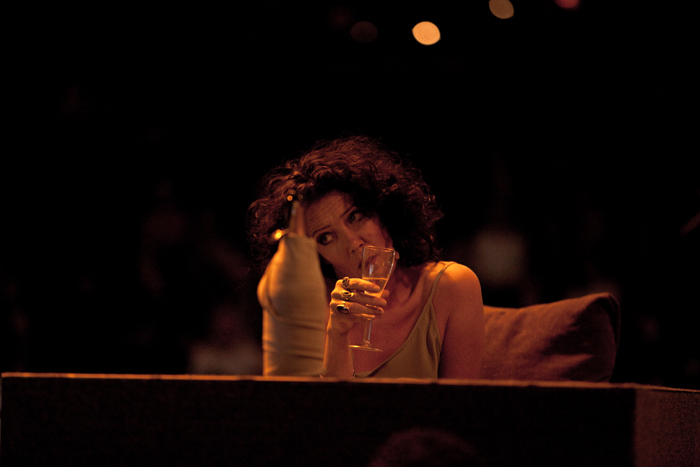 Cleopatra at the beginning of her journey into inebriation: Chris Nietvelt
¶ 38 Leave a comment on paragraph 38 1 Upon the arrival in Alexandria of Agrippa (Fedja van Huêt), Enobarbus' (Chico Kenzari) purple prose account of Cleopatra's barge had the air of the corporate lackey welcoming his home-based office colleague on an exotic business trip to an Orientalised space of fantastic luxury. By this stage, most people in the auditorium were looking almost exclusively at the cinema screen, rather than the actors on stage, and the production seemed to be playing quite clearly with the notion of voyeurism. During some very intimate action between Octavius and Octavia, which subsequently took place on couches in the upstage-left acting area, Antony observed all, unmoved, even if the event he oversaw was a highly charged, erotic, open-mouthed kiss between the sisters. The scene then shifted, and onto the cinemascope screen burst the Red Hot Chili Peppers singing Hump de Bump (Yo Body). As Charmian and Cleopatra danced and the Egyptian girls had fun, a row of parcans was flown in, on full, upstage. The drunken scene was interrupted by a messenger who informed the Egyptians of Antony's marriage. Cleopatra attacked the messenger; chasing her across the stage as MTV images of black R&B and Rap artists appeared on a huge plasma screen behind Charmian. Meanwhile, on another set of sofas signifying Rome, Marc Antony lay gracefully in Octavia's lap as Cleopatra, becoming ever more riggish, chased the messenger into and through the auditorium. As things calmed down, Charmian and the female messenger snogged and the Egyptians settled to speak more calmly. During her description of Octavia, the messenger's hand constantly caressed Charmian's knee while an MTV logo slowly rose on a plasma screen behind Cleopatra.
¶ 39 Leave a comment on paragraph 39 0 When Antony and Octavius began increasingly to fall out, their dialogue displayed great intimacy and respect, but was underscored by low, rumbling drums and gongs. The battle that followed between Octavius and Pompey, as the former warmed up before divesting herself of her triumvir partners in order to move towards global domination, was mediated through scrolling dot matrix displays, each giving a précis of received ancient military history. At the same time, a DMX-controlled rotating strobe flashed across the back of the projection screen and a climactic build of lighting broke out both onstage and in the auditorium. In a now well-established pattern, a period of intense violence was followed by intimate straight acting. This time, downstage by the Octavian faction. No video images were used, but ominous underscoring on the bass drum was deployed as Octavius began to turn her attention towards Alexandria and Antony. Throughout the scene, just one flickering strobe light continued above the auditorium—aimed at the base of one of the theatre's highest concrete lighting access gantries. The effect was unsettling.
¶ 40 Leave a comment on paragraph 40 1 Early on, Van Hove took the decision to cast female actors in powerful male roles for the second two plays of his trilogy. His reason was that he thought it very obvious that Octavius, for example, should be a woman 'because women such as Angelika Merkel and Hilary Clinton are leaders in our modern world'. His decision carried significant gender-political ramifications; because Octavius' cynical manipulation, cold-heartedness and self-centered nature called into question several presumptions (not elsewhere considered in the production) regarding the nature of women. Octavius was, in particular, very manipulative and domineering over her more feminized sister, their relationship objectifying Octavia not only in political but also in sexual terms. The audience were accordingly invited to read these two genetically similar blondes as different versions of the same thing: both were dressed in light grays, Octavius in a trouser suit, Octavia a skirt and jacket; tacitly, spectators were invited to ask which fantasy of femininity they wished to see (and react with) in the real world: a sexualized object of exchange passed between powerful figures in order to consolidate the allegiances between them? or a ball-breaking super bitch in a trouser suit, chewing up and spitting out everyone that got in her way as she clambered her way up the greasy pole of corporate and political success? To this observer, Minis' Octavius did not present an alternative to patriarchal oppression; she embodied it. I wanted neither of them.
¶ 41 Leave a comment on paragraph 41 0 As the play headed incontrovertibly towards its final catastrophes, most of the clocks hanging at the theatre's back wall were flown out until there were just two left. A very face-to-face exchange then took place between Enobarbus and Cleopatra. Shot close up with a roving camera, huge masks were made of the faces acting onstage. Enobarbus exploded with anger as supposed Eastern values were pitted against supposed Western ones. Accelerated multiple war images burst onto the onstage TV monitors during the battle of Actium (the first battle of the six-hour spectacle during which actors were always moving, running across the set with documents clasped in their hands). Field messages arrived and commanders showed immense frustration and exasperation, sending messengers scuttling away with new instructions and fresh orders. All was confusion. Arguments between several key characters took place inaudibly against a cacophony of percussion. Then the cinema screen cut to a split screen of Cleopatra and Antony in defeat as the noise of battle settled. Plasma televisions onstage now showed archival, post-conflict news reportage; the REM video: It's the End of the World as we Know it appeared. Subsequently, Vladimir Putin was followed by a middle-eastern woman in a headscarf. The productions' plasma-screen-based video images seemed to be descending into chaos, as if someone somewhere were channel zapping in a vain attempt to find some truth, some reliable reportage that could shed light, or indeed validate in some way, the events that had affected them. Big Bird and Eric and Ernie were set against footage of Islamic women in a Western shopping mall; footage of Bush was juxtaposed against that of Clinton, which was juxtaposed against Islamic-looking men selling oranges; fly-outs were presented, Google Earth style, from points on satellite images around the globe. One pulled out from downtown Manhattan, hinting at events that had taken place there, or were perhaps about to.
¶ 42 Leave a comment on paragraph 42 2 In post-Actium discussions, the Roman surrender offer to Cleopatra was underscored through signal processed percussion (this time reversed echoes of struck, and then dampened, tubular bells). This was the calm after the storm, yet something vital had been lost. There were no longer two alternative ways of seeing and responding to the world—and humanity was the poorer for it. Marc Antony's anger to Agrippa was underscored by drumsticks rubbed around cymbal edges; Kesting smoldered with extreme anger before bursting into apoplectic rage. All of which bravura performance was accompanied cinematically by just a huge headshot of van Huêt, taking it all in, passively. It's easy to do that when one is absolute victor. The two clocks that remained on the back wall now simply stated DAAR and HIER. One had the impression that the whole world had fallen into the chasm between these disparate spaces.
¶ 43 Leave a comment on paragraph 43 0 Onstage, the distance between Marc Anthony and Cleopatra was increasingly significant, but the characters were overlaid to appear next to each other on the cinema screen. Cleopatra was now reduced to drinking champagne in defeated birthday celebrations as images of children's cartoons played on screens behind her, intercut with footage of burning cities. The Queen of Egypt, drunk and crying, lolled before footage of the Teletubbies—a worse fate, perhaps, than a squeaking Cleopatra boying her greatness. When Marc Antony called for his armor and was dressed by Cleopatra and her girls, it was a crumpled business suit and tie-at-half-mast that encased his almost spent body. As the lovers embraced for a soldier's kiss, the growing underscoring of slow vibraphone that accompanied the scene suddenly burst into Dylan's It's Not Dark Yet (But it's Getting There). The kiss was huge, turning into a major onstage embrace. Nietvelt and Kesting almost ate each other as bodily fluids were seen to be passing between their mouths on the widescreen above them. High contrast talking heads buzzed into life on the plasma monitors behind them, alongside further images of the earth from space. Suddenly, the love between these two seemed huge, and real, and important; and instead of Shakespeare, I was reminded of Dryden's re-working of this great romance: All for Love, or the World Well Lost. In this lost world, however, stolen moments of passion could not last forever and the performance segued once again from the personal to the geo-political as it cut to Caesar declaring to Enobarbus: 'The time for world peace is at hand if this day prove auspicious.' Enobarbus' disgusted response was to run off stage, out of the theatre, into the exterior court of the Barbican, in order to commit suicide.
¶ 44 Leave a comment on paragraph 44 0 Events with Enobarbus outside the theatre were relayed electronically onto the cinema screen within. A glowing CAR PARK 2 sign floated in the distance as the noble Roman, corrupted by circumstance, gave his final monologue on a parking ramp. Moving down to Enobarbus, a set of headlights become visible, then stopped. As Enobarbus turned towards them, startled members of the public, who had not asked for this strange tragic world to break out into theirs as they went to collect their vehicles, looked concerned at the strange man declaiming his last gasps of life in Dutch and beating his chest before them. Finally, Enobarbus ran back into the theatre to commit suicide. As with the other deaths before him, his end took place on the Ekkyklema. Kenzari pulled himself backwards onto it on his back and was captured in freeze frame before the camera cut to Cleopatra crying in despair, grasping her champagne glass, with saliva falling from her mouth and tears rolling down her cheeks.
¶ 45 Leave a comment on paragraph 45 0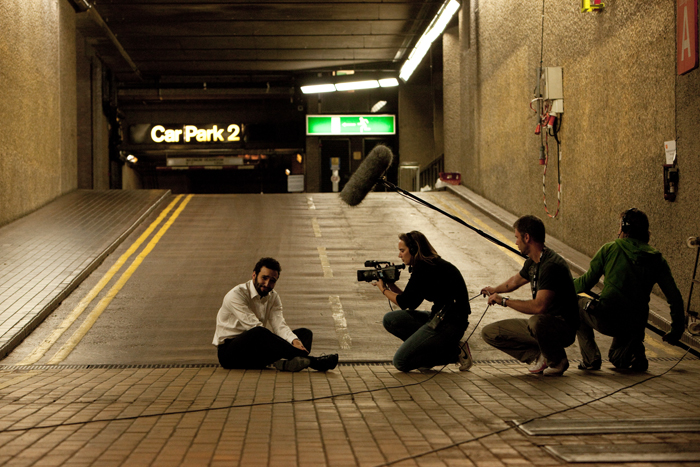 Enobarbus outside the theatre preparing for his suicide (the camera and sound crew here seen during a close up did not appear in wideshots from this perspective, shown on the monitors and screens inside the theatre): Chico Kenzari
¶ 46 Leave a comment on paragraph 46 0 Antony's suicide was underscored by the bowing of small cymbals and the same instruments dropped gently onto the skins of bass drums, their circular rotations increasing towards the horizontal, combining the sound of metal with the vibrating of the drum heads. Ventidius (Eelco Smits), refusing to kill Antony, slew himself in the corridor of death before close-camera work followed Antony's preparations to do the same. When he botched the job, the sound system played RF breakup, but the image of Kesting did not freeze. Watching him fail, the cinema screen displayed a shot of Cleopatra's grief as she wiped her hand over the glass screen that separated her from her Antony. Transparent barriers that had not so long ago contained battle maps of Philippi were now wiped almost clean (leaving smear marks like smoke across them); through these too-persistent traces of war, Cleopatra's fingers left translucent marks. Her face pressed against the glass, her cheek flattened, Cleopatra bent as Antony rose and the two kissed across glass in a poignant farewell. They longed to be together, but they were utterly incapable of connecting with each other by this stage of events. Finally, suddenly, the image of Antony froze on screen and a primal scream of grief exuded from the body of Cleopatra, with thundering drums beneath it.
¶ 47 Leave a comment on paragraph 47 0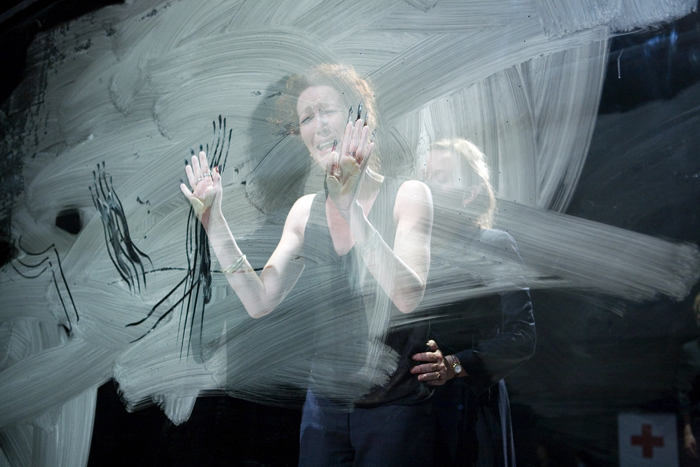 Cleopatra mourns the death of Antony: Chris Nietvelt
¶ 48 Leave a comment on paragraph 48 0 Cleopatra's final speeches were underscored with vibraphone and a live adder was brought onstage for her suicide. The death of the Egyptian Queen was a private affair, undertaken by Charmian and Cleopatra's other female attendants. Her death was underscored by gentle oriental brass-bowl percussion. Yet just at the moment of expiration, Cleopatra's private space was violated by Roman characters who suddenly burst onstage carrying a defibrillator in order to attempt to resuscitate the two corpses lying together on the ekkyklema. A Roman triumph could not be denied its great paraded symbol of living abjection and mixed shots were overlaid as the audience watched a crash team working feverishly on the dead bodies: first in top-shot, then in several mixed shots from the side. Eventually, thankfully, the lovers' deaths were called and the invading Romans retreated from the corridor of death. The final words of the production came from Octavius, seen through the hazy white Plexiglas, still smeared with the traces of Cleopatra's fingers. She gave a politically necessary, but entirely unfelt valediction fitting to such an inglorious end.
¶ 49 Leave a comment on paragraph 49 0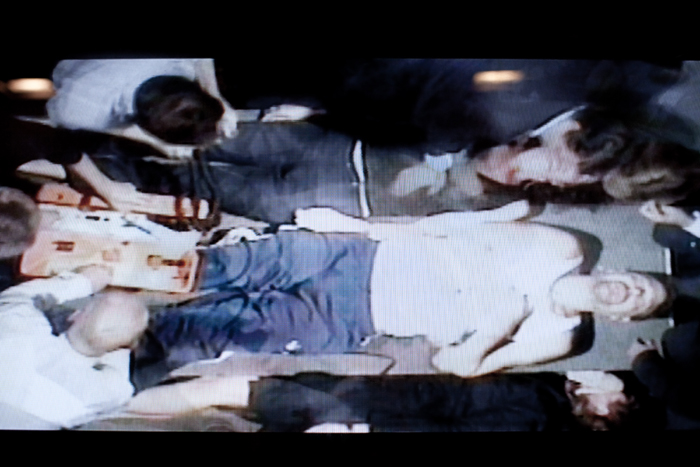 Romans attempt to resuscitate Antony and Cleopatra (Widescreen Projection Image): Hans Kesting and Chris Nietvelt
¶ 50 Leave a comment on paragraph 50 0 Coda
¶ 52 Leave a comment on paragraph 52 4 The events of the evening had been so visceral, and the number of startling theatrical events presented so high, that I must confess I was unable to reflect very deeply on many such questions. What I was left with, which is a far greater indicator, I think, of powerful theatre, was the imprint on my mind's eye retina of some of the most visually-stunning theatrical spectacle I have seen for about a decade. Emotionally too, I felt for a change as if I had been through one of the most intense vicarious experiences I would have in my life—as part of a theatrical event that went some significant way towards making me understand the true gravitas of great tragedy.
[1] This section of the stage bore the sign: 'Eat, Drink, Read' and had a variety of newspapers spread out on a large table, with chairs for spectators to sit in as they read. Available were: The Wall Street Journal, The International Herald Tribune, The Guardian, The Financial Times, The New Statesman, The Times, Newsweek, The Irish Times, Which MBA? and so on…
[2] Hans Kesting, the actor playing Marc Antony, was dropped in a rehearsal two days prior to the production opening in London, shattering his ankle. Following emergency surgery, he performed the role in a wheelchair for the London run.